Community Curator
A Project of the Kansas City Museum at Corinthian Hall
Parlor Guitar
Beau Bledsoe
Guitar made by C. F. Martin & Sons of Nazareth, PA
1855-1860
Kansas City Museum Accession No.1981.60.1
Dimensions: 27 x 10 x 4 inches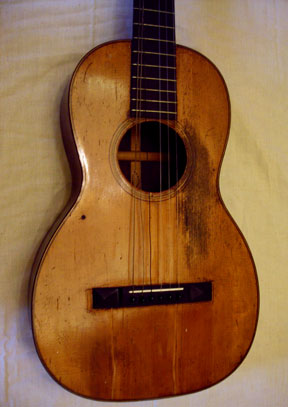 The Old Martin in the Museum
The American "parlor guitar" in the Kansas City Museum collection typifies many transitional elements between European and American guitar building in the mid 19th century. Crucial differences between the two traditions are, arguably, superficial aesthetics and musical loudness. This guitar represents a very modest "no frills" design that began to typify American guitar building of the time. However, it retains the very light, sweet tone of the European guitar which was meant for close, intimate quarters. This particular instrument was built by an ingenious German immigrant who was ultimately responsible for much bigger and louder guitars designed to meet the rapidly-changing needs of a new and diverse American instrument market.
Christian Frederick Martin was born January 31, 1796 in Markneukirchen, Germany. He joined a long lineage of cabinet makers, entering the family trade at age fifteen when he was apprenticed to the renowned guitar maker Johann Stauffer of Vienna. It was soon apparent he was a gifted builder and was appointed to the position of foreman.
After marrying and starting a family Martin moved back to his home town to set up shop. He there found himself embroiled in a bitter guild dispute between the cabinetmaker's guild, to which most guitar makers belonged, and the violin maker's guild. The violin makers objected to the cabinet makers' infringement into their markets. This occasioned C. F. Martin to immigrate to New York City in September of 1833.1.
Martin founded his guitar company at 196 Hudson Street on the Lower West Side. His storefront housed a guitar production shop and retail store selling everything from cornets to sheet music. He built guitars in the European style of his time, influenced by Stauffer's innovation and aesthetic. The unsophisticated American music market combined with a personal reaction against highly ornamented European instrument styles led Martin to make simpler instruments with humble ornamentation.2. His guitars were specifically aimed at a market of unostentatious immigrants seeking function and value over artifice. His conservative approach to instrument building was coupled with a spirit of radical innovation that nurtured emerging American music's sound throughout the country.
By 1838 the Martin Guitar Company was a modestly successful business selling around one guitar a week. The Martin family was by no means content in hectic urban New York City. There was talk of returning to the homeland but, on the advice of German-American friends Martin visited the Lehigh Valley of eastern Pennsylvania. This to his eyes looked as if he had been magically transported to his ancestral Germany. He immediately moved his family and shop to Nazareth, Pennsylvania where the Martin factory remains to this day.3.
During the following years the Martin Guitar Company implemented one of its greatest innovations. The internal "X" brace pattern was a response to the growing popularity of steel strings over "catgut" strings. Martin needed an instrument design that could structurally handle 180 pounds of steel string tension exerted on a guitar soundboard, as well as maintain an acoustically viable sound. The volume needs of the average guitarist of the time were growing due to the immense popularity of the banjo, mandolin and increasingly larger orchestral playing situations.4. This trend stretched the imagination of Martin and many other instrument builders of the time to design louder instruments, often sacrificing any recognizable tonal elements from the guitars of European ancestry. This race for greater sound volume eventually resulted in the introduction of the electrically amplified guitar of the mid 20th century.
The Martin guitar in the Kansas City Museum collection is from the aforementioned "X" brace period but retains a much lighter European "finger" or "fan" internal bracing pattern intended for gut strings. It is Martin's most unadorned model, identified by it size and decoration as a 2 ½, Style 17 from approximately 1850. This instrument, donated by Kansas City musician and educator Mike Morris, features Brazilian rosewood back and sides, spruce soundboard, ebony finger board, ebonized Spanish cedar neck and Jerome tuning machines with ivory tuner buttons. Other tell-tale dating clues are the "ice cream cone" heel and the flat "bar'" fret wire hammered into the fingerboard, both elements predating guitars from the 1860's. The guitar also shows sign of having been retrofitted with a tin tailpiece most likely in the 1930's when such "cowboy guitars" were in fashion. In 1979, it was given a new maple bridge plate as part of a series of restorations done at the Martin Guitar factory.
More than six decades after the Kansas City Museum guitar was made, Martin produced a second and most enduring innovation, the dreadnought guitar. In 1906, the British Royal Navy had shocked the world by launching a battleship, the HMS Dreadnought, considerably larger than any in service. Martin borrowed this byword for "enormous" for their new large guitar model.5. The greater volume and louder bass produced by this increased size were intended to make the guitar more useful as an accompaniment instrument for singers. The dreadnought became the guitar of choice for all American acoustic musical styles and is the most copied steel string acoustic guitar design to date. As compared to the guitar in the Kansas City Museum, the dreadnought design is almost twice the size all around and radically different in tone, although the materials used in the Martin dreadnought are very similar to its smaller cousin's.
The upsurge of innovation surrounding the work of C. F. Martin and his progeny completely altered the tonal landscape of American music, and music around the world. There are now such a dizzying number of variations of the "guitar" in production that the only real commonality is often six strings tuned in a similar way. The Martin Guitar Company is now celebrating 175 years in operation and is in its' sixth generation of family ownership, still in Nazareth, Pennsylvania. Their specialized "1833 Custom Models" workshop has recently begun to manufacture reissues of smaller Martin models from the mid 1800's.
About the project
The Community Curator program of Kansas City Museum invites historians and history educators to share their perspectives on artifacts they choose from the Museum collection. This provides fresh insight about artifacts and collections of Kansas City Museum and Union Station, and welcomes diverse input from the Kansas City history community. Community Curator lectures are presented the third Sunday of each month in Collections Storage at Union Station Kansas City, allowing the actual artifact to be presented with the observations of our Community Curator.
Bio
Beau Bledsoe, musician and composer, is a founding member of the well-known Argentine Tango quintet Tango Lorca and the independent record label Tzigane. He has toured throughout the United States, across Europe and in Russia, Mexico and Argentina. His recordings are regularly featured on Radio1 BBC, "Segovia a Yupanki" Radio Nacional Argentina, and "All Songs Considered" on National Public Radio. He is also co-founder of the flamenco music and dance school Manos Rojas and the flamenco dance company Esencias Flamencas.
Bledsoe did undergraduate work at the University of Arkansas, Little Rock and completed the graduate guitar program at the UMKC Conservatory of Music. He has studied independently in southern Spain and in the tango scene of Buenos Aires with masters such as Antonio Andrade, Miguel Rodriguez, Santiago Aguilar, Pedro Cortez and Luis Heredia of La Repompa de Málaga.